Wednesday, September 29, 2010
Posted by Bubba Crumrine at 2:54 PM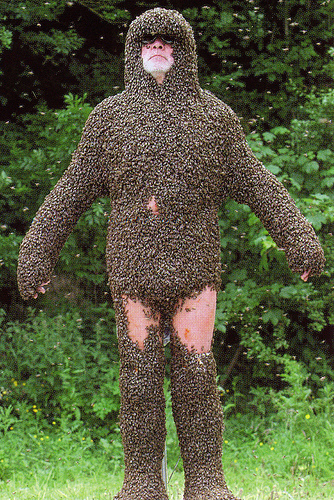 Band Name:
BEES///
. Gimme had a dream about four deaf kids who made music, calling themselves The Bees, and we try to embody that essence through the power of ELECTRIC GUITAR.
We used to be called The Touch Yourselves/The Bees/Suicide Death Cult. Now those are just slashes.
But names are important to forget about. The best thing would be a band called every sound that they ever make as together and then people don't get any unhealthy dose of persona before the thing itself.
Members:
Gimme D. Brown, Devin B. Brown, Brian H. Ma, + a chorus of ghosts and vapors + everybody.
Location:
Binghamton, NY. It's sort of like a giant Civil War jacket full of mice, beached between the stinking sheen of two rivers. I wish I could say that I was born there, but we came to the place as intruders.
Formed:
December 10, 1986 at Westchester Hospital + November 30, 1988 at Danbury Hospital. The Brown brothers have been in bands since they learned that it was cool to do in Pre-school. The first effort, Krippy Krappy and the Krippy Krappy show, survives only on a single challenging cassette, "Krap".
But this particular thing stands out as having more of our blood and hope in it than anything we've yet made together. It's changing rapidly, too rapidly to keep up with, but there's a joy in that constant de/rematerialization that's a large part of how we feel and want people to feel.
A lot of the rest of it has something to do with words like technoshamanism, ritual, catharsis. It's maybe not the most intellectually involved music we could be making, I don't think it's about that. I wouldn't want people to be listening for our technique, I'd rather people rolled around on the floor and shouted and sang and laughed and growled.
Releases:
We try our best to release ourselves upon others.
>>>Ithaca Underground presents Marnie Stern, Summer People, The Dan Drake Ensemble, and BEES/// this coming Monday, October 4th at The Haunt.
6PM Doors, $10 adv/$12 dos, all ages!
Labels: bees///, Binghamton, dan drake ensemble, Ithaca, Ithaca Underground, marnie stern, Noise, The Haunt